"MEDICAL ETHICS" is not just a politically correct or fashionable statement, it is the "RULE" by which this clinic runs. We endeavour to guide the patient correctly as to what extent his ailment is curable by Homoeopathy or whether he needs any other system.
Financial considerations are not the sole guiding force behind this clinic. Rather we aim to improve the health status of each one who visits this clinic - be it rich or poor. Infact the patients have an option of procuring homoeopathic medicines form the clinic or any other homoeopathic pharmacy, they choose to.
Over the years, this clinic has employed and trained more than 50 doctors who have since gone into private practice and are flourishing all over the country as well as abroad.

So - how much longer will you go on believing about Homoeopathy being just about sweet pills & quacks, thereby denying yourself a healthy way to heal yourself?




Homoeopathy is not a cure-all & it does not reject the great discoveries of modern medical science, but only its commercial abuse. Homoeopathy is more concerned with the sick individual & his sickness rather than the mere names of diseases. Thus, great success & curative reactions have been effected in patients suffering from allergies,
intestinal diseases & various auto-immune disorders like Alopecia areata, Rheumatoid Arthritis etc.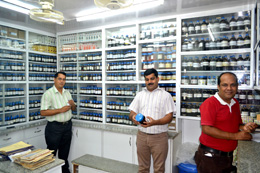 People suffering from common infections tend to get rid of their recurrence when treated Homoeopathically because their immune system is strengthened. In other diseases Homoeopathy can prevent surgery in case of Piles, Fissure, Tonsillitis, Adenoiditis, Calculi (Kidney Stones) etc. provided these have not grown beyond the capability of the patient's immune system or have created undesirable mechanical pressure or very gross pathology. Even in frank surgical cases, homoeopathic medicines can help lessen post-operative shock & hasten healing & recovery.
Homoeopathy's relevance in this day & age is far greater as man is tampering with the body's capacity to fight disease by feeding it heavy doses of drug substances indiscriminately which lead to immuno-suppression. As a result recurrence of disease has become common, while Homoeopathy aims to restore the inner balance of the body without any side-effects.