Protein in a pod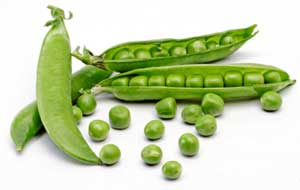 Mom had good reason to make you finish all your peas before you could have dessert. They're loaded with protein (compared with other green veggies), important nutrients, and phytochemicals such as beta – carotene. Now that you get to decide what to eat and when to eat it (within reason, of course), remember: peas are fight op there in the nutrition charts.

Like beans, peas are edible seeds in the legume family, with close kinship to lentils and chickpeas. Each half – cup serving contains nearly 4 grams of protein, far more than the same amount of spinach or cauliflower. (As a result, peas are a bit higher in calories, too – 93 kcal/ 100 gm). These roly-poly vegetables also deliver a lot more fibre than most others; a fair dose of vitamin C; lots of folate; and an outstanding combination of crucial minerals: calcium, magnesium, potassium, and phosphorus. It's tough to beat good old peas and carrots in terms of both nostalgia and nutrition. But according to Michael A. Grusak, ph.D., a plant physiologist with the Agricultural Research Service at the U.S Department of Agriculture and an associate professor at Baylor College of Medicine., eating peas with whole grains such as rice, corn, or wheat is a better combination for protein seekers. Together peas and grains provide a complete set of essential amino acids, just the kind of full force protein your body needs. Fresh peas in the pod. Also known as garden or English peas, are at their best this time of year, when the weather is cool. Shortly after picking, their sugars start turning to starch. So if you can't get fresh peas, frozen ones are as goods as any. (Whether you choose fresh or frozen, though, keep the cooking time to a minimum.) Snow and snap peas, with their edible pods have less protein but many of the same vitamins and minerals. Pea shoots and flowers are also edible, and more like hearty greens, with a deliciously subtle flavour.
Need some cooking suggestions for peas?
Try these:
Use garden-variety peas in vegetable medleys, stir-fries, and curries, especially those that include potatoes, paneer.

Make a quick, versatile fresh-pea soup you can eat hot or cold: start by steaming peas, and then puree a handful in the blender with any combination of veg4etabale stock, dahi: or low – fat sour cream (hung curd). Gently heat the soup, or refrigerate it to eat chilled,

Quickly sauté shoots or flowers with a little olive oil for a pretty side dish, or add a few to your favourite pasta just before serving

Toss together a simple wilted salad: warm a drizzle or olive oil and a splash of white wine vinegar in a nonstick skillet. Add sliced green onions, peas, and a pinch of salt . remove from heat and place atop bits of lettuce; finish with mint leaves and a few grinds of fresh block pepper. That's sure to put you back in the clean-plate club.