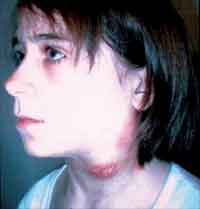 In Sept. 1995, a 37 year-old gentleman came to us with the history to recurrent lymphadenitis (lymph gland enlargement) in the axillary region which had trouble dim for the last 8 years. The lesions were cystic with discharge of pus. There was on significant family history.

The patient
He was a chilly patient and would even cover his head while sleeping; otherwise he would get a headache. He mentioned that his feet would smell awfully bad on account of the perspiration.

Homoeopathic prescription
His symptoms indicated towards silicea, which was given as unit doses of 200,1m, 10m on 3 consecutive days, followed up, he was feeling much better and the lymphadenitis had subsided. A repeat of the previous prescription was done. Around 10 days back, he had again suffered from swelling and pus discharge in the right axillary region. Another complaint was loss of sense of smell and mild pain due to sinusitis. To help him get rid of his recurrent tendency for lymphadenitis, he was given a dose of tuberculinim 200 with no other medicine to be taken for the entire week. Then, he was again prescribed silicea 200, 1m, 10m, unit doses, following by placebo for a month.

Nine months had elapsed during which he had been fine and there was no recurrence of Lymphadenitis, However, recently again he showed some signs of inflammation and pain in right axilla for which a does of Tuberculinum 1M was repeated. Thereafter, few doses of silicea were repeat followed by placebo for a month. He did not come after this visit and when he finally finally did come, he came for and appointment for a friend of his as he had been cured completely.